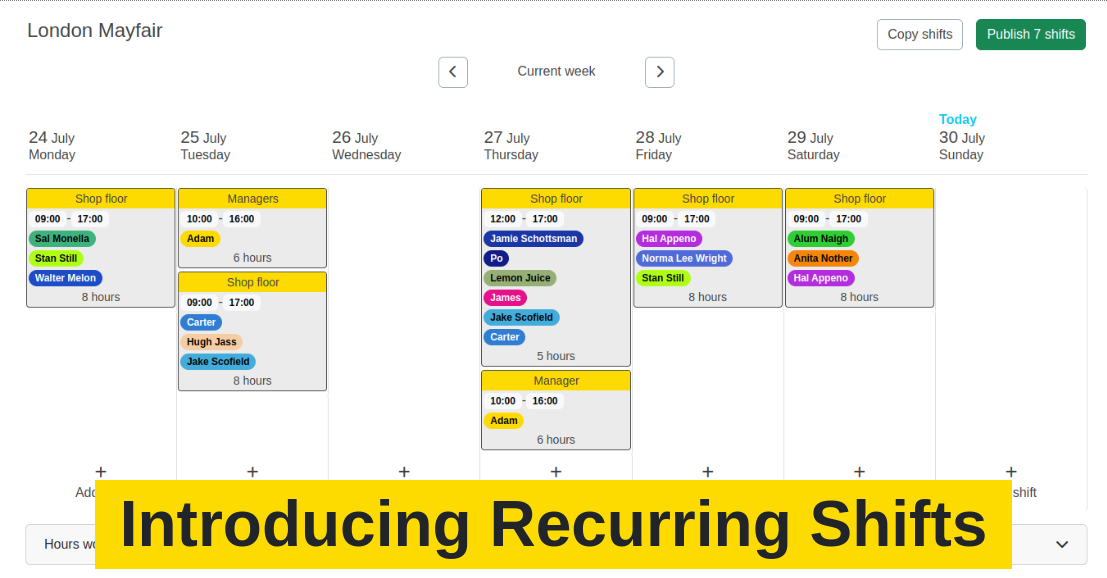 Introducing Recurring Shifts to RotaPlanner!
Hey there, RotaPlanner users! We've got some exciting news for you today! 🎉 We know how important it is for you to streamline your workforce scheduling, and that's why we've been hard at work, cooking up something special to make your RotaPlanner experience even better. Say hello to the brand-new feature: Recurring Shifts! 🕰️
You asked, and we listened! We know how repetitive it can be to create the same shifts week after week, so we decided to give you a helping hand. With Recurring Shifts, you can now bid farewell to the endless clicking and copying – let us handle the heavy lifting for you! 💪
So, how does it work? It's as easy as pie! 🍰 When creating a shift, simply select the option to make it "recurring." From there, you can choose the frequency – whether it's daily, weekly, or custom dates, we've got you covered. You can even set an end date if you want. 🗓️
How to implement recurring shifts
The add shift screen now contains a selection for recurring shifts. You can choose from daily, weekly, or custom dates.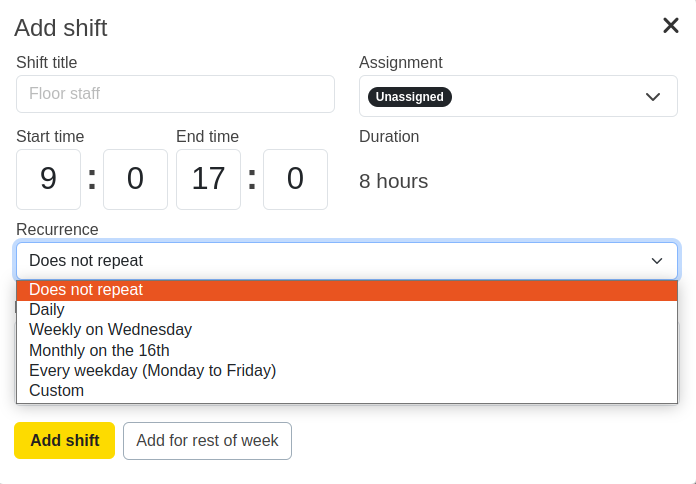 The full options for recurring shifts are:
Does not repeat
Daily
Weekly
Monthly
Every weekday (Monday to Friday)
Custom
If you select custom, you can specify how often the shift should recur. For example, every 2 weeks, every 3 weeks, etc.

Some more possibilities:
Every 2 weeks
Every 5 days
Every 3 months
If you select weekly you can also specify which days you would like the shift to recur on.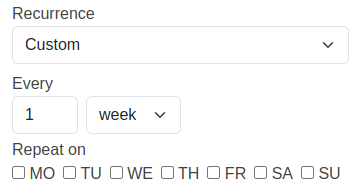 Quick recur
We've added a quick recur option when you add a shift, hit the 'Add for rest of week' button and the shift will be added for the rest of the days in the week.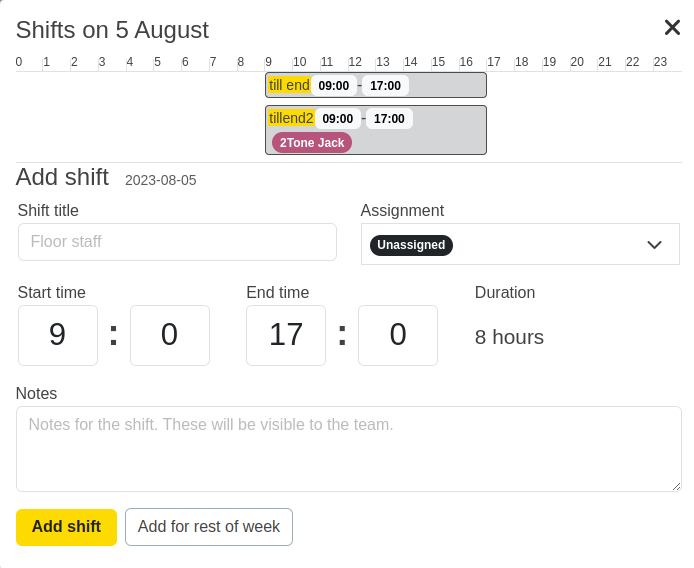 But wait, there's more! 🙌 To add even more flexibility, you can edit individual occurrences of the recurring shifts without affecting the entire series. Life happens, and we get that! So if someone needs to swap shifts or take a day off, no worries – you're in control. 💼
And don't worry about confusion – we've made it super simple to identify recurring shifts. They'll be marked with a special icon, so you'll always know at a glance which shifts are on repeat mode! 🔄
Popular Combinations for Recurring Shifts
Recurring shifts offer a wide range of combinations and possibilities that can make workforce scheduling a breeze. Let's explore some popular combinations and their potential use cases:
🌞 Weekly Shifts (Monday to Friday, 9 AM - 5 PM): Use Case: Ideal for businesses with regular office hours or retail stores that operate throughout the week. Employees can have fixed schedules, providing stability and predictability for both the workforce and customers.

🌙 Overnight Shifts (Saturday and Sunday, 10 PM - 6 AM): Use Case: Perfect for businesses that require 24/7 operations, like hospitals or call centers. Overnight shifts can help ensure continuous service and distribute workload evenly among employees.

🔄 Rotating Day-Off Shifts (Three Days On, One Day Off): Use Case: Ideal for industries with fluctuating demands or shift preferences. Employees can work three consecutive days and then enjoy a day off, allowing for better work-life balance and avoiding burnout.

📅 Monthly Rotations (Week 1: Morning Shifts, Week 2: Afternoon Shifts, Week 3: Night Shifts): Use Case: Suitable for businesses that experience varying peak hours or need to accommodate employee preferences. This rotation allows everyone to experience different shifts, fostering team cohesion and a versatile workforce.

🏥 12-Hour Shifts (Three Days On, Four Days Off): Use Case: Commonly used in healthcare facilities or emergency services, where continuous coverage is essential. Employees work longer shifts but get more consecutive days off, leading to increased job satisfaction.

🎓 Semester-Based Shifts (Adapting to Academic Calendar): Use Case: Suitable for educational institutions or businesses that cater to students. Shifts can be aligned with academic semesters, ensuring smooth operations during peak and off-peak times.

🏢 Split Shifts (Morning and Evening): Use Case: Ideal for industries with extended operating hours, like restaurants or hotels. Employees can work two shifts in a day, accommodating various customer demands while keeping the workforce engaged.
We're thrilled to bring this new feature to your RotaPlanner toolkit. We believe that efficient shift scheduling should be a breeze, and with Recurring Shifts, it's never been easier.
So, hop on over to RotaPlanner.app and give it a spin! Let us know what you think – we're always eager to hear your feedback and make RotaPlanner even better for you. Happy scheduling! 📅🎈
At RotaPlanner, we're all about making your life easier, one shift at a time!