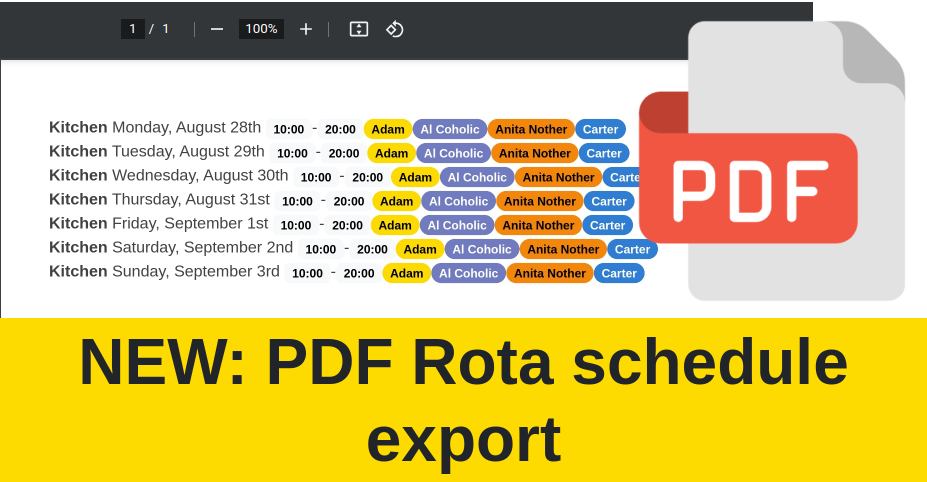 RotaPlanner: Introducing Printable PDF Work Schedules 😃
Hey there, work schedulers and planners! 📅 Looking for an easier way to handle your team's schedules? Look no further! We're excited to introduce a new feature at RotaPlanner.app that's going to make your life a whole lot simpler.
Printable PDF Work Schedules 🖨️
Gone are the days of squinting at tiny screens to figure out who's working when. Our latest feature, printable PDF work schedules, you can now generate and print out your work schedules in easy-to-read PDF format. Pretty colours included and all.
We know a printed document can be easier to share sometimes than a digital one, so we've made it easy to print out your schedules and share them with your team. You can also share them electronically if you prefer.
You can pin them up on the wall, stick them on the fridge, or even share them with your team via email or WhatsApp. The choice is yours!
Of course for the more digitally inclined, you can also share the PDFs electronically via email notifications or import them into your calendar software automatically.
We'd love your feedback!
This is the first implementation of a PDF export, so we'd love to hear what you'd love to see on the PDF. If you have any suggestions or feedback, please let us know via the in-app feedback form.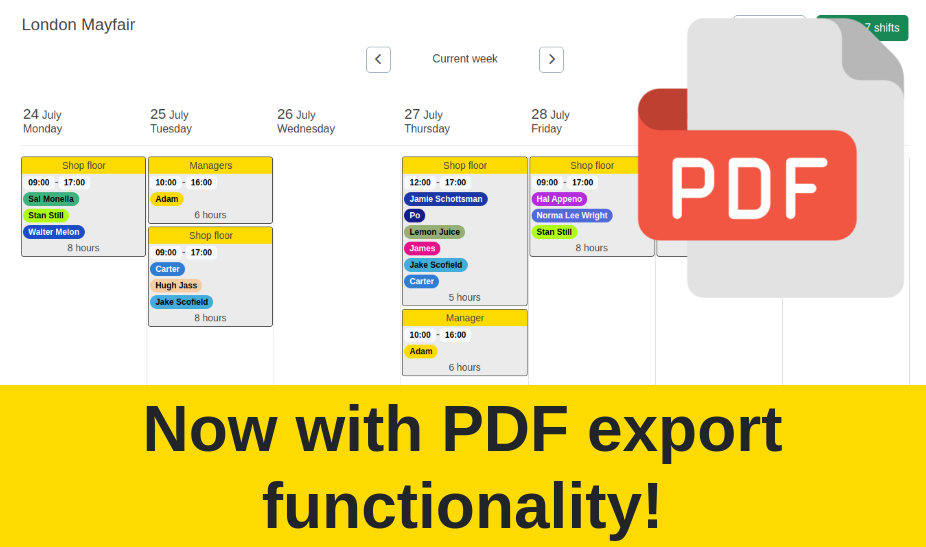 Why You'll Love It 🤩
1. Convenience at Your Fingertips: Creating schedules that everyone can access and understand has never been this easy. Just a few clicks, and you'll have a neat and tidy PDF work schedule in your hands. This convenience is perfect for businesses of all sizes.
2. Shareable and Portable: No more sending out multiple messages or screenshots. Print out the schedules or share them electronically – it's up to you! Plus, it's great for those who prefer a physical copy. Our printable employee schedules PDF feature ensures that your team members stay in the loop.
3. Bye-Bye Confusion: The PDF format ensures that all the important details are crystal clear. Your team will never have to guess who's supposed to be on duty again. With downloadable work rota templates, clarity is at your fingertips.
4. It's a Time Saver: Let's face it, time is precious. Our printable PDF schedules free up more of it, so you can focus on the things that really matter. Whether you need a PDF roster maker for businesses or a simple solution for managing shifts, we've got you covered.
How to export your rota schedule to PDF
Ready to simplify your team's scheduling? Getting started is a breeze. Just log in to RotaPlanner.app, and you'll find the option to create your very own PDF work timetable generator. Input your team members' shifts, customize the schedule to your liking.
Sign up at www.rotaplanner.app
Add your shifts via the shift editor
Click the 'Share' button
Click the 'Download PDF' button
Print out the PDF or share it electronically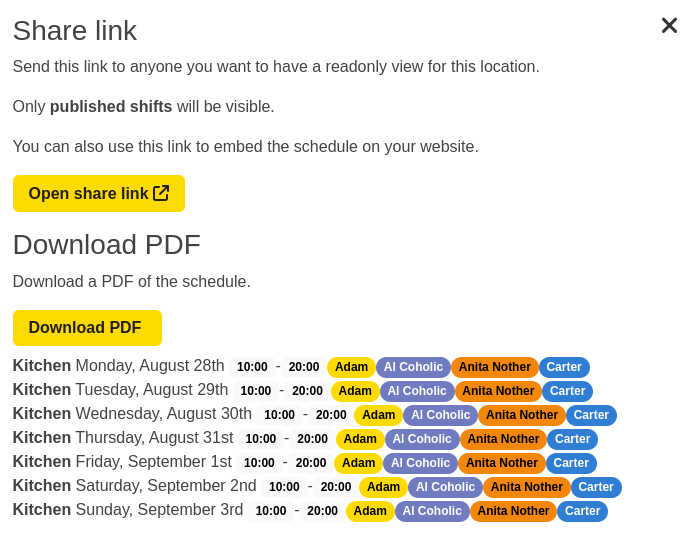 Why Choose RotaPlanner.app?
We understand that managing a team's schedule can be a bit like herding cats. That's why we designed our platform with your convenience in mind. Our user-friendly PDF scheduling software is tailored to meet the needs of businesses both big and small. No more guesswork or messy spreadsheets - just clear, concise schedules that keep everyone on the same page.
Ready to Give It a Try?
So, go ahead and give our printable PDF work schedules a whirl. Your team will thank you, and you'll wonder how you ever managed without them! 💪 At RotaPlanner.app, we're dedicated to providing tools that make your job easier. Say goodbye to scheduling headaches and hello to organized, hassle-free planning.
Happy scheduling! 🗓️