We received a lot of requests on our popular excel leave tracker from those looking for better solutions to tracking team rotas. Many said the existing solutions didn't quite suit their needs.
So we decided to give back to the community by offering a free rota planner to easily manage your work rotas online.
Designed to be simple but effective, the rota software is fully hosted so there is nothing for you to manage. It's also completely free!
This is still a very new tool so feel free to give us feedback so we can work to improve it!
Here's a few things the rota planner can do:
Notify employees of a new available rota
Notify employees of a updates to their rota
How it works
Add some shifts that you would like to fill. There are some basic details such as start and end times and options for when the shift recurs. If you add a shift with no recurring days selected then the shift will show up as a one off on the start date.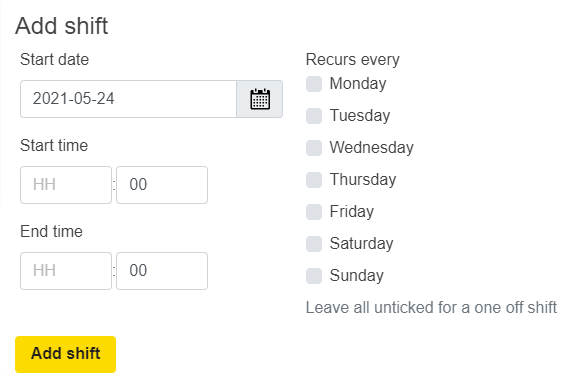 Once you have created your shifts you can add some employees to fill those shifts.

You can add an employee by clicking 'Add Employee' at the top right of the screen.
Your shifts will now appear for the selected days, you can select an employee to fill the shift in the drop down. You may add multiple shifts on the same day if required.
Locations
Your first location is automatically created, you can add more locations if required. Shifts are location specific so you can then add different shifts to your new location.
You can add a location by clicking the link at the bottom left of the page.
Why use a Rota planner?
Tracking your rotas manually via a spreadsheet or similar can get very messy quickly. You have to keep adding columns as time goes on, with added risk of human error along the way.
Using a system to manage it for you allows for more dynamic functionality such as alerts and validation checks to be performed.
Why make another Rota System?
We wondered the same when many of our customers started asking for a system. Why aren't they using any of the other rota systems available?
Then we tried out some of the online rota planners currently out there - we weren't impressed. They were clunky and cumbersome to get started with.
So we set out to create something we thought would serve the needs better, it had to be easy to set up and get started tracking shifts.
It was a nice break to work on something new, fresh and release it for free! Let us know if you have any improvements we could make!
Is it really free?
Yes, if you sign up now - it is 100% free.
To be full transparent with our intentions...
We do plan to start charging new customers in the future but existing accounts will be grandfathered on the free plan forever.
It's free currently because we want to build out the service rapidly and recieve more customer feedback. This is to help us build a product that provides value quicker.
Our servers are shared between our other products helping us save money on hosting costs. We're not as risk of running out of money and we're in it for the long term.
How did we do?
We would love to hear how well our rota planner worked for you and how we could improve.
Updates
18 May 2023 Complete re-write of the application released. More modern and will serve as the foundation for adding more features.
24 July 2021 Implemented varying weekly rotas
23 May 2021 New brand 👌 Hope you like the yellow!
1 May 2021 New website! Moved the website to it's own dedicated website here at rotaplanner.app
24 March 2021 No more save buttons! Once you assign an employee to a shift it's automatically saved.